---
We accept PayPal with major Credit Cards. Buy through our online store and receive direct download and convenient aftermarket service assistance.

Downloadable Software Products purchased online are non-refundable.
---
---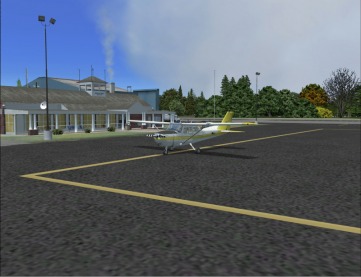 KHSP's small terminal building
Ingalls Field is a small
Virginia
airport perched atop the
Warm
Springs
Mountain
ridgeline at near 4000ft (1219m) amsl. It is the highest public use airport east of the
Mississippi
with a single 5600ft (1707m) runway. As one local news reporter covering the airport summarily described, "...it's so inconspicuously located truly in the middle of nowhere that many county residents don't even know it's there." (Most county residents live below the ridgeline, hence "out-of-sight-out-of-mind").
Although the airport has only 3 employees, Ingalls Field has served many general aviation needs and special guests over the years. Apart from playing host to President Bill Clinton, who arrived on a DC-9 in the Winter of 2000, the airfield continues to accommodate general aviation aircrafts with an average 31 aircraft per day. From 2009 stats, 81% of these are transient, 12% military and 8% local traffic.
Because the airport is situated atop the ridgeline with an aircraft carrier-type

runway (drop off at each end) and unforgiving wind shear factors, it is an ideal location for military operations including aircraft testing and intermittent Touch and Gos. According to the airport engineer, wind shear frequently occurs at the airport when wind hits the side of the mountain and rides up one side and goes down on the other. If not careful or fully aware, an aircraft that flies into the wind current gets pushed down along with it.
Follow link for document and instrument charts.
PRODUCT FEATURES
Ingalls Field has been thoroughly overhauled from its default FSX version to resemble its real-world counterpart. The resulting product is from multi sources including pictures and anecdotes from pilots, unknown photographers, local newspapers and the Airport Manager. The product package includes:
·
Custom buildings (terminal and hangars)
·
Custom tarmac/ground polys and textures
·
Customized vegetation
·
Custom objects (too many to list)
·
Custom night effects on buildings and ground
·
All season photo-real airport scenery at 30cm/pixels
·
Re-adjusted airport terrain matching real-world
·
AI rendered/enabled (road and aircraft traffic)
·
Latest (
03 June, 2010
) airport specific data including Instrument/Nav charts
·
Animation
·
Very friendly frame rates.
---