---

We accept PayPal with major Credit Cards. Buy through our online store and receive direct download and convenient aftermarket service assistance.

Downloadable Software Products purchased online are non-refundable.
---
---
---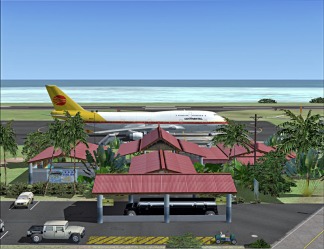 With a population of nearly 8000, Kosrae is the most eastern of the Caroline Islands, Federated States of Micronesia. The island is located 370 mi (590 km) north of the equator, between Guam and the Hawaiian Islands. Its land area is 42 mi² (110 km²). Kosrae has high mountains that is largely unspoiled and rarely visited. Kosrae is becoming a destination for scuba divers, hikers and tourists. Dense vegetation and steep mountains keep the island largely undeveloped. Viewed from the sea, the island's distinct shape resembles a female body. This has led to the island being called "the island of the sleeping lady."

Kosrae International airport, located on the northwestern coast of the island, is served by Continental Micronesia Airline's "Island Hopper" flights (three times a week in each direction) between Hawaii and Guam, stopping at other FSM and Marshallese destinations on the way. Specifically, the "island hopper" employs the venerable B737-800 (and the occassional B767-300) which usually begins in each direction (from Honolulu and Guam) via Majuro and Kwajelain atolls (Republic of Marshall Islands), Kosrae, Pohnpei and Chuuk (Federated States of Micronesia). Once a month tourists also arrive on an chartered B727 including weekly freight runs by DHL and Fedex.
Product Features
Accurate terminal building;

Radio navigation enhanced

for instrument approaches (ILS/DME, VOR and NDB)

Apron markings;

Very framerate friendly (including full autogen enhancements for framerate fluidity using SDK annotator - buildings and vegetation). This means all sliders to the right with very minimal fps impact;

Ambient sounds;

Animation;

30cm/pixel photoreal terrain;

Night lighting and effects;

Complete texture coloration of land and waterclass;

Upgraded terrain mesh reflecting actual contours of the island;

Custom vegetation and objects;

Custom ground/tarmac polygons with textures;

Re-arranged airport terrain;

....and more
System-specific Requirements
Kosrae International Airport was developed on a medium system for low to high-end computers, and was tested on WinXP, Vista and Win7 32/64 bit platforms with medium to high-end graphic cards. Specific requirements include:

- Microsoft Flight Simulator X (SP1, SP2/Acceleration)
- Pentium IV 2.6 GHz (2GHz Duo2Core Intel and above or equivalent advised)
- 1 GB RAM and above
- 256 Mb DirectX 9 graphics card (512 Mb or higher recommended)
- Word for Windows or Adobe Acrobat® Reader 6 minimal to read and print the manual.
- 220 MB of disk space
---
---
---