---

We accept PayPal with major Credit Cards. Buy through our online store and receive direct download and convenient aftermarket service assistance.

Downloadable Software Products purchased online are non-refundable.
---
---
---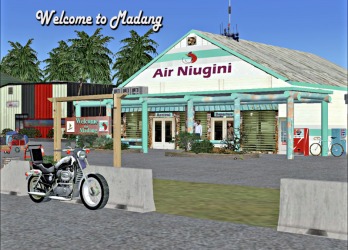 Air Niugini terminal, Madang
RG-EBT combo pack
consists of "Raw Grit: PNG Bushpilot (RG)" and "Extreme Bush Trekker (EBT)" airstrips, giving the simmer 40 airstrips and combination of over 22 waterports and helicopter pads. The package is grounded on high altitude rough terrain and sea level short strip flying, there and two major hubs for medium range aircrafts flying domestic, regional and international routes.
Specifically, there are:
40 airstrips from sea-level to over 11,500ft msl with very short to medium lengths.
Most runways are sloped with difficult approaches with one-way landings and take-offs.
Combination of 22 sea/lake ports and heliports (including helipads on cruiseliners and logging ship).
A mine exploration campsite 1/4 mile south of Indagen (IGN) has bamboo helipad located at base of waterfall at over 7,779ft. Another bamboo helipad sits higher up at 11,527ft at Lake Gwam (GWM) which serves the telecommunication relay station at 12,000ft.
Traditionally-built structures typical of PNG including tiny resorts and primitive grass and coconut thatched dwellings (tree huts within forest canopy, open-view huts over the water, etc)
Hand-drawn river network and coastlines with white, tan, black and volcanic lava-filled sandy beaches.
Customized vegetation typical of the region.
Various animals (crows, white parrots, gulls, eagles, whales, dolphins, etc) with animation, including distinct sounds of nature from birds in the mountains to waves crashing ashore in the coastal region.
Customized objects such as local tribesmen, cattlemen (cowboys) on horse back, horses, cattle, ducks, kangaroos, wallabies, pelicans, herons, egrets, chicken, river and saltwater crocodiles, etc.
Active volcano spewing rocks, lava and deadly smoke; including passive volcanoes spewing intermittent hazardous smoke.
Night effects
Alternate routes/operations and Maps
Airstrip Facilities Directory
Animated sea and road traffic
Rural road traffic slowed down to 60KMPH as in real-life unlike default at 100KMPH.
Very friendly frame rates (product was built on a low-end system)
System-specific Requirements

The RG-EBT combo pack was developed on a low-end system for low to high-end computers, and was tested on both WinXP and Vista platforms with medium to high-end graphic cards. Specific requirements include:
• Microsoft Flight Simulator 10 (FSX, SP2)
• Windows XP (SP2, SP3), Windows VISTA
• Pentium IV 2.6 GHz (2GHz Duo2Core Intel or equivalent advised)
• 1 GB RAM and above
• 256 Mb DirectX 9 graphics card (512 Mb recommended)
• Adobe Acrobat® Reader 6 minimal to read and print the manual.
• 190MB of disk space
---
Two Freeware airstrips to complement the PNG Bush Flying scenery.
These are downloadable at avsim.com and flightsim.com libraries.
---